Disciplinary Development
Sinopharm Foreign Trade utilizes its advantages in pooling international resources to support disciplinary development in Chinese medical institutions. It helps build featured medical centers, improve the service quality and increase the profits of medical institutions, and vigorously promote the development of the medical health industry. Meanwhile, Sinopharm Foreign Trade puts into practice the "Internet Plus" idea and creates Internet-based, digital and intelligent service platforms and strives to become a domestically influential provider of custom services and complete solutions in medical services.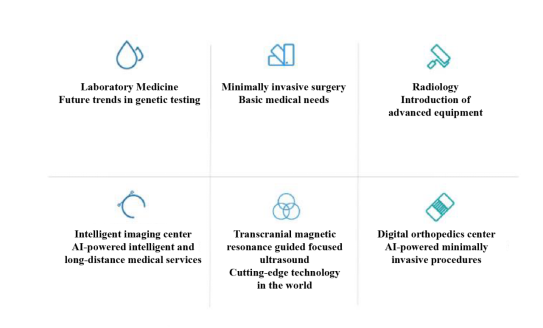 Sinopharm Foreign Trade joins hands with hospitals to build some of their departments together. Such projects have been launched in Shiyan, Datong, Dalian, Xinxiang, Chongqing and other places successively. The company helps hospitals bring in advanced equipment to enhance the core competitiveness of relevant departments, develop their distinctive features in the field establish top-notch programs, and build brand visibility. Currently, Sinopharm Foreign Trade offers programs to build radiology centers, intelligent imaging centers, minimally invasive surgery centers, laboratories, and digital orthopedics departments. Meanwhile, it has also been following progress in basic medicine, rehabilitation, and the cutting-edge transcranial magnetic resonance guided focused ultrasound therapy.
Future Goals
While steadily advancing joint disciplinary development programs, Sinopharm Foreign Trade will continue to develop new business models to vigorously support disciplinary the development of specific disciplines. First, based on existing models and the specific needs of relevant medical institutions, it will pursue cooperation in both precision medicine and basic-level capacity building. Specifically, the company will base its work start from on existing joint disciplinary development programs to help accelerate development and upgrade by introducing more advanced equipment, technology and ideas, thus building competitive edges. Second, in line with the development strategies of its higher-level companies, Sinopharm Foreign Trade will make more efforts in health promotion by utilizing making use of its competitive advantages in resources to contribute to Sinopharm's goal of delivering medical, health promotion, nursing and rehabilitation services in a holistic manner. Third, to truly implement General Secretary Xi Jinping's instructions about strengthening basic-level medical services and delivering more medical resources to lower levels, the company will follow the guidance of relevant policies to help basic-level medical institutions build their capacity through joint disciplinary development programs and thus make its contribution to the Healthy China strategy.