CIIE: Sinopharm Foreign Trade and Elekta Sign a Letter of Request
On the afternoon of November 5, China National Pharmaceutical Foreign Trade Corporation (hereinafter referred to as "Sinopharm Foreign Trade") and Elekta China Investment Co., Ltd. (hereinafter referred to as "Elekta China") held a ceremony for signing a letter of intent at the 4th China International Import Expo (hereinafter referred to as the "CIIE").
Sinopharm Foreign Trade General Manager Ding Weizuo and Global Vice President and President of Elekta China Gong Anming signed the letter of intent for purchasing medical devices on behalf of the two sides, respectively. Also present at the signing ceremony were Sinopharm Deputy General Manager and Sinopharm International Chairperson Shi Shengyi, relevant leaders of Sinopharm International and Sinopharm Foreign Trade (Beijing) Co., Ltd., and Elekta (China) Vice President and Business Development Director Xu Kun, and others.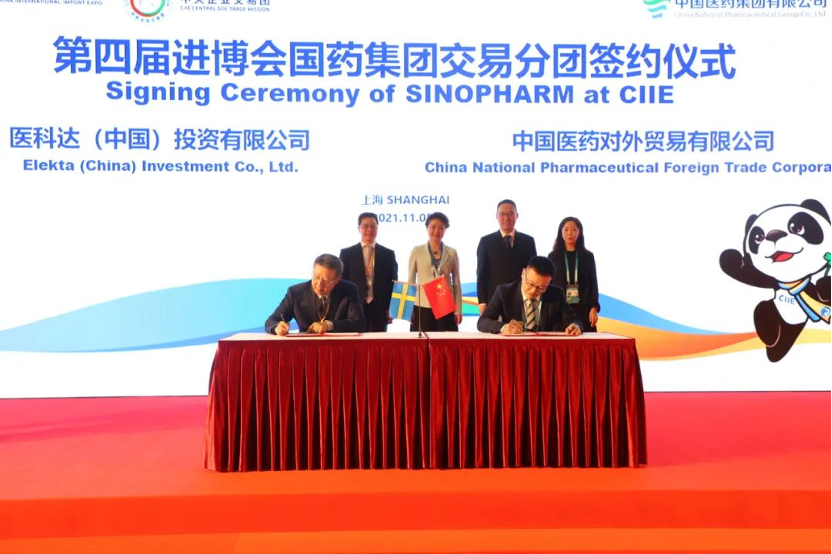 Since the cooperation started, Sinopharm Foreign Trade has actively collaborated with other medical institutions to introduce high-end linear accelerator from Elekta, built the Radiotherapy Center of the Oncology Department of the Sinopharm Dongfeng General Hospital, and effectively sharpened the core competitive edge of the oncology discipline of the hospital in regional development. The procurement cooperation intention reached by the two sides at the 4th CIIE fully recognizes the outcomes of the previous cooperation and symbolizes that the business cooperation between the two sides has reached a new high.
Sinopharm Foreign Trade will take the opportunity to continue to introduce advanced technologies from Elekta, such as radiotherapy cloud computing, treatment plan and remote command control, etc., explore to set up radiotherapy cooperation platforms, promote smarter models of precise radiotherapy, assist medical institutions in realizing lean management, extend radiotherapy services to basic-level medical institutions and provide more patients with better diagnosis and treatment services, so as to empower the development of medical and health services.